SHOW PROFILE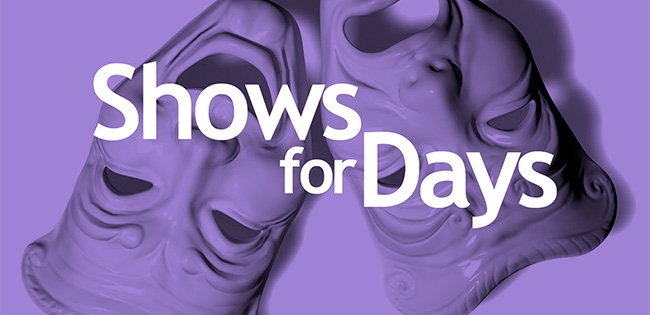 by Douglas Carter Beane
Directed by Roseann Ruggiero
Performances:
September 15, 16, 22, 23, 29, 30 at 8:00 PM
September 24, October 1 at 2:00 PM

In community theatre, it's all about the drama.
It's May 1973 when a young man wanders into a dilapidated community theater in Reading, PA. The company members welcome him with open arms, perhaps only because they need a set painter! He then proceeds to soak up all the idealism and craziness that comes with being part of a struggling theater company with big dreams. A comedy, written by Douglas Carter Beane, who is known for The Nance, Sister Act, The Little Dog Laughed, As Bees In Honey Drown, and many others. According to the playwright, "This story isn't the truth. It's the only way I know how to tell the truth, which is through fiction."
This show may not be suitable for children under 12.
CAST
| | |
| --- | --- |
| PERFORMER | ROLE |
| Carla Kendall | Irene |
| Lauri MacMillan | Sid |
| Brian Merrill | Car |
| Joshua Musgrave | Clive |
| Jessica Phelan | Maria |
| Will Roper | Damien |
CREATIVE TEAM
| | |
| --- | --- |
| Director | Roseann Ruggiero |
| Producer | Penny Hoadley |
| Stage Manager | George Seylaz |
| Stage Crew | Geraldine Baillod |
| Props | Geraldine Baillod |
| Set Construction | Stephen Catron |
| Set Design | Stephen Catron |
| Lighting Design | Ellen Fraker-Glasscock |
| Costumes | Barbara Haag |
| Stage Crew | Barbara Haag |
| Props | Barbara Henderson |
| Stage Crew | Barbara Henderson |
| Stage Crew | Clara Punla |
| Costumes | Roseann Ruggiero |
| Hair & Makeup | Roseann Ruggiero |
| Lighting/Sound Operation | Richard - Booth Babe Vetter |
| Sound Design | Richard - Booth Babe Vetter |
| Asst. Stage Manager | Richard - Booth Babe Vetter |